The Core Facility Functional Genomics supports and performs high-throughput image-based experiments combined with RNAi and provides technical expertise and support in high-content analysis microscopy for the quantitative analysis of cellular phenotypes. We also support and perform genome wide pooled screens with our libraries (gRNAs or shRNAs) and assist until hit validation by generating KO/KI cell line(s) for the genes of interest.
Tasks routinely performed by the facility:
Assay Development & Optimization, User training
design & optimization of cell-based assays
optimization of siRNA transfection
high-content analysis (HCA) assay development and optimization
assay adaptation to multi-well-plate format
work-flow automation
statistical analysis
user introduction and training
organizing workshops
Screening
high-throughput high-content RNAi screening
data analysis
hit-picking
Resources and equipment
RNAi libraries (sgRNA, shRNA, siRNA)
automated high throughput epifluorescence microscope: Thermo Arrayscan VTI
automated high throughput spinning disk confocal microscope: MD ImageXPress Micro Confocal
liquid handling workstation: Tecan Evo Freedom
Cell dispensing device: Biotek CellDispenser
Electroporation device: Amaxa 4D-Nucleofector (X and Y units)
IT infrastructure for storage & analysis of large datasets in collaboration with SG-IT and CF LSC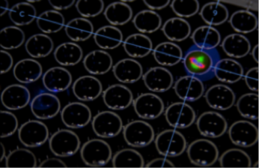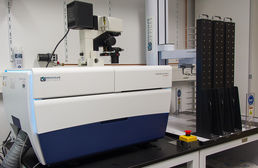 Pooled CRISPR-CAS9 Screening

Wang lab, Biochemistry group

Generation of sensor-tested shRNA library


Image-based screening

Glucocorticoid-induced osteoporosis (collaboration with CME Ulm)

High-Content-Analysis (HCA) pipelines

Cytospin Images Quantification (Huaibiao Li / Ploubidou Lab)

Automated Imaging, HCA-Pipeline and Screening Support

Automated cell counting (various labs)
Apoptosis and Cell Death assays (various labs)
4Ch Assay (Johannes Jungwirth / Pospiech Group - Englert Lab)
Fish embryo transfection screening (Raphael Geissen / Englert Lab)
Astrocytes Counting (Gabriela Guerra / Wang Lab)
Colony Counting (Annemarie Carlstedt / Morrison Lab)
EdU Assay (Morrison Lab)

Tissue analysis and quantification

Hindbrain Analysis (Christian Hayn / Englert Lab)
Internal users:
Download (pdf) Detailed information on the facility equipment and resources.
External users:
Please inquire.
Team (incomplete due to Data protection)
| Name | Phone | Email | Position |
| --- | --- | --- | --- |
| Torsten Kroll | +49 3641 656400 | torsten.kroll@leibniz-fli.de | Core Facility Manager |
| Mara Sannai | +49 3641 656716 | mara.sannai@leibniz-fli.de | Research Engineer |
| Jana Hamann | +49 3641 656052 | jana.hamann@leibniz-fli.de | Technical Assistant |
| Christoph Kaether | +49 3641 656230 | christoph.kaether@leibniz-fli.de | Scientific Supervisor |
* incomplete due to Data protection