Biology Lab Assistant (IHK Degree)
Biology Lab Assistants collaborate very closely with our FLI scientists during their training and are integrated into several research projects, e.g. carrying out investigations with animals (mice, fish etc.) or with cell cultures and microorganisms (yeasts, bacteria). Guided by scientists, they prepare, conduct, analyze and document experiments by means of molecular-biological, genetic or biochemical procedures.
General Information
During their dual vocational training, trainees attend two-week teaching blocks at the Berufsschule Radebeul, each followed by a 4-6-week practical training at FLI.
The apprenticeship is organized by the Chamber of Industry and Commerce (IHK) of Eastern Thuringia in Gera and normally takes 3 ½ years (40 h/week). Showing excellent training results, the duration may be shortened. Trainees are remunerated according to the agreement TVA-L BBiG.
Prerequisites
Applicants…
should have successfully completed their secondary school diploma or Abitur
should be interested in scientific experiments within an international research environment
should own a reliable, diligent and exact working style
should be ready for assisting in experiments with animals
should be highly engaged and team-minded
should have good language skills in English
Career Perspectives
After the completion of their vocational training, biology lab assistants can collaborate with and assist to our FLI scientists in research and research projects.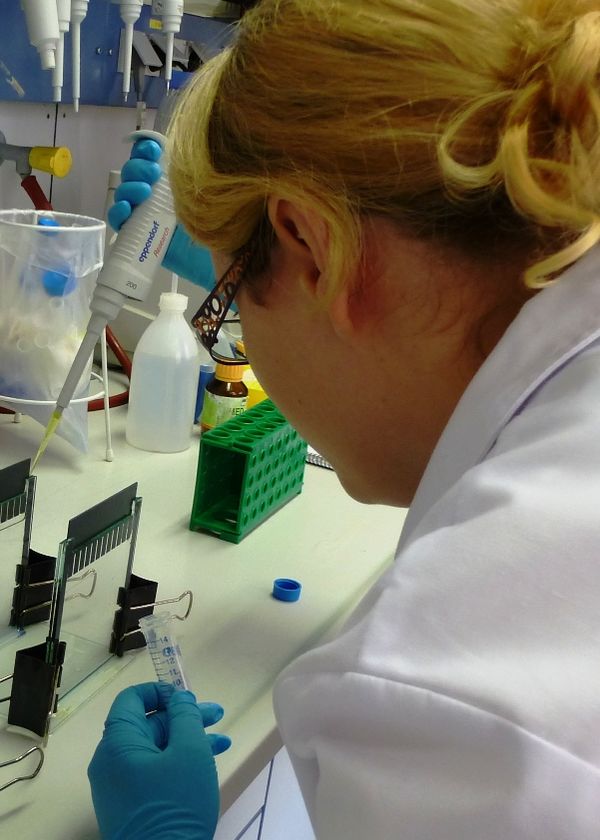 The practical training periods take place in the laboratories of FLI in Jena, covering the following aspects:
molecular-biological work
genetic work
microbiological work
immunological and biochemical work
work with cell cultures
application of chromatographic procedures
English training
To provide our trainees with a broad overview on their vocational field, we offer several internships within FLI and at other institutes.
Internal Internships: Histology & Hematology, FACS, Fish Facility, Electron microscopy, Microscopy, Animal House
External Internships: Basics of analyses and laboratory techniques (SBSZ Jena-Göschwitz), Microbiology (ASG Nünchritz), Zoology (FSU Jena), Chromatography (ASG Nünchritz), Hematology (SBG Dresden)
Extracurricular Activities
Beyond the educational and practical trainings, we also offer valuable extracurricular activities to foster the community spirit and exchange between our trainees. These activities include:
common lecture series on methodologies and tools with animal care taker trainees
common trainee breakfast
common excursions (e.g. Open Campus, Carl Zeiss, ...)
sportive activities
presentations on the FLI-apprenticeships e.g. at Girls' Day, Boys' Day
separate learning and training room
The educational training takes place at Berufsschulzentrum Radebeul near Dresden and includes:
unification and separation of biochemical substances
photometric and chromatographic analysis of biochemical substances
biochemical and molecular-biological work
zoological and pharmacological work
botanic and phytomedical work
characterization of biomedical structures and substances
hematology and histology
microbiological, cell cultural and biotechnical work
pharmacological, toxicological and pharmacokinetic work
immunological, biochemical and diagnostic work
The vocational school in Radebeul organizes extracurricular activities as well, e.g. excursions to the "Day of Science", theater visits, guided tours through the Helmholtz Center Dresden Rossendorf or the noodle factory Riesa. Moreover, vocational students have the opportunity to attend a German-French Seminar for Chemistry and Biology Lab Assistants in France and Germany during a one-week student exchange.