Animal Caretaker Research/Clinics (m/f/d) - IHK Degree
It's in the responsibility of an animal caretaker research/clinics to take care and breed experimental animals in research institutions and assist in animal experiments. In animal clinics, animal caretakers take care of ill or injured pets and assist in medical interventions and treatments.
General Information
During their dual vocational training, trainees attend 2-3 week teaching blocks at the Berufsschule Ansbach/Außenstelle Triesdorf, each followed by a 4-6 week practical training at FLI.
The apprenticeship is organized by the Chamber of Industry and Commerce (IHK) of Eastern Thuringia in Gera and normally takes 3 years (40 h/week). Showing excellent training results, the duration may be shortened. Trainees are remunerated according to the agreement TVA-L BBiG.
Prerequisites
Applicants…
should have completed their secondary school diploma or Abitur
should be interested in scientific experiments within an international research environment
should own a reliable, diligent and exact working style
should be ready for assisting in experiments with animals
should be highly engaged and team-minded
should have good language skills in English
Career Perspectives
After the completion of their vocational training, animal caretakers research/clinics can collaborate with and assist to our FLI scientists in research and research projects, development departments of pharmaceutical and chemical enterprises, in universities and research institutions.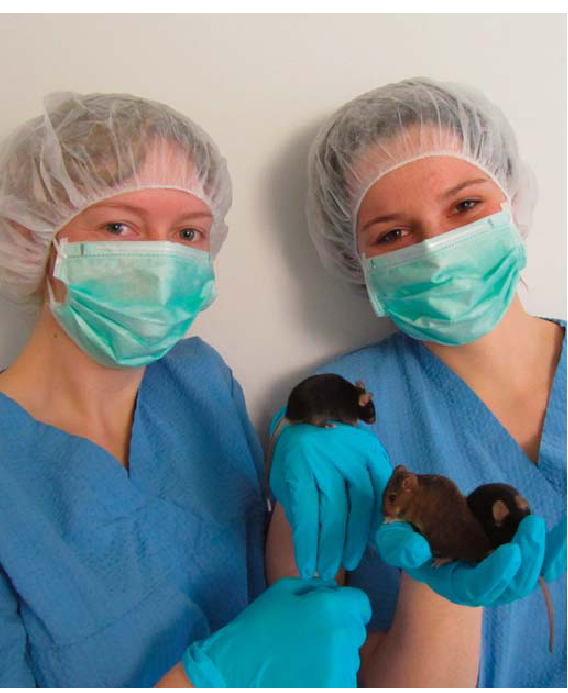 The practical training periods take place in the laboratories and animal houses of FLI in Jena, covering the following aspects:
feeding and breeding of experimental animals
cleaning and disinfection of animal facilities
monitoring of technical plant
marking of animals
assistance in experiments
conduct of little operations
English training
To provide our trainees with a broad overview on their vocational field, we offer several internships within FLI and at other institutes.
Internal Internships: Hematology, Molecular-biology, Cell cultures, Fish Facility
External Internships: Animal Facility and Services (ZET) at University Hospital Jena (UKJ), Veterinary Clinic Jena-Lobeda
Extracurricular Activities
Beyond the educational and practical trainings, we also offer valuable extracurricular activities to foster the community spirit and exchange between our trainees. These activities include:
common lecture series on methodologies and tools with biolab-trainees
common trainee breakfast
common excursions (e.g. Open Campus, Carl Zeiss, ...)
sportive activities
presentations on the FLI-apprenticeships e.g. at Girls' Day, Boys' Day
separate learning and training room
The educational training takes place at an outpost of the Staatliche Berufliche Schulzentrum Ansbach in Triesdorf – a competence center for agricultural economy, housekeeping, childcare and social care. The educational training includes:
animal protection laws and species protection provisions
hygiene and cleansing
zoology and animal anatomy
animal feed
breeding and reproduction
housing and care
The vocational school in Ansbach/Triesdorf organizes extracurricular activities as well, e.g. excursions to the Wilhelma in Stuttgart, Nuremberg Zoo or the Wildlife Park in Bad Mergentheim. To celebrate the completion of the training, a common end-of-school trip is conducted (e.g. to Amsterdam).